CD Name: Forward Infinity Mix Recorded: 05/01/15





infinity mix_mp3
CD Name: Promo Recorded: 06/30/04
Includes Goldfinger, Cold Halo, Culture, If, Big Boss, Autumn (Commix RMX), Insatiable (Matrix & Danny J RMX), What goes around come around, Road Runner, Sing Out, Your Love, Havanna, It's On the Way, The Basement Track, Outerspace, Hideous Kinky, My Chances, and Hold Back- Jah.

promo_mp3
CD Name: Centerfold Recorded: 12/12/01
Includes Play On Me, Hideous Kinky, Therapy, Make it Tonight, 9 by 9, Soul Food, Interphaze, So Tinha que ser com voce, Ultra, What you Need, Imagine, A Better Place, Captive, Midinght, Warp 1, and Grounded Theory.

centerfold_mp3
CD Name: Epoch Recorded: 3/01
Includes Tension, Evolution, The Craft, Imagination, Deadline, Warpath Rmx, Tribal Warfare, Freeway 2000, The Decoy, Rock Tha House, Forcefield, Nanobugs, Hysteria, Deception, Waterhouse Dub, Research and Epoch.

Tape Name: Pneumatic Recorded: 12/99
Includes Generation, Bongo Rock, Drop Bear, Phantom Force, Menace, Autumn(Dilinja Rmx), Both Worlds, Whiplash, Beckoning, Temperament, Mindscan and Payload, The Machine, Sawn Off, Z-Plane, Cerebrus, Explosive, Mechanizm, Plastic, Cardio, Vortex, Collective Minds, PP7.
Tape Name: Platinum Recorded: 10/99
Includes Spike, Hazardous, Gas Mask, Hole Punch, Bitmapping, Nemesis, Code Red, Feelings, Final Chapter, See Red, Ghostbuster, The Fear and more.
Mixes by Locks of Intellect:
03/08/15- Dirtbox Radio- Locks - Live
04/10/09- Dirtbox Radio- Drunk Fun
02/03/06- EXBC Radio Broadcast (Luis + Locks)
10/16/05- Dirtbox Radio
09/16/05- Live at Cubik - Phase 1 Phase 2
04/23/05- Dirtbox Radio- 3 Year Anniversary
03/21/04- Dirtbox Radio- Old Skool Set (30 mins)
11/16/03- Dirtbox Radio- Hotbox - Ragga Set (30 mins)
03/29/03- Sound Compound @ JungleTrain.net
04/08/00- Direct Drive @ Baktun(NYC) (Luis + Locks)





Tunes Produced By Intellect:
Winter 2001: Scatter, Epoch, The Decoy, Kingdom
Summer 2001:

Centerfold, Goose, Groove Me, Eye Scan 2003 : Kinky, Wind Up
2005 : Trigga Happy (by Locks of Intellect)
More to come...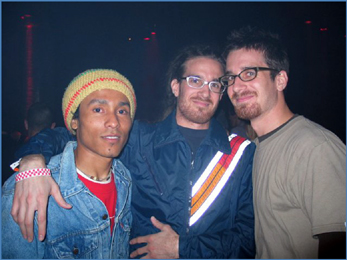 For Bookings and Info:
locks@contactrecords.com